First Republic Bank was recently praised by Jim Cramer as a very good bank when it was trading at $81; however, it is currently trading at roughly $2. As a result, those with knowledge of the situation claim that the U.S.
The Federal Deposit Insurance Corporation (FDIC) is preparing to take over the First Republic Bank as soon as possible. Additionally, the relevant banking regulator has formally determined that there is no longer time to attempt a private sector rescue because the situation with the troubled regional lender has worsened.
First Republic Bank Falls
Despite a brief period of positive momentum for First Republic Bank's stock in late March, April hasn't been kind. At the end of trading on Tuesday, the reputable lender's shares had lost nearly 50% of their value in the previous month, bringing the total loss since Cramer made favorable comments about it to 90%.
The well-known TV personality and host of CNBC's "Mad Money," Cramer, claimed in a tweet in March of last year that First Republic Bank was a "very good bank." However, since then, the company has lost $100 billion in deposits, and as of April 26, the stock has fallen 90%.
It's important to note that the aforementioned TV personality frequently came under internet criticism and mockery due to his relatively dubious investment suggestions and predictions. In addition, many social media financial analysts advise investors to do the exact opposite of what he advises and anticipate the opposite of what he predicts.
The Aftermath of Cramer's Tweet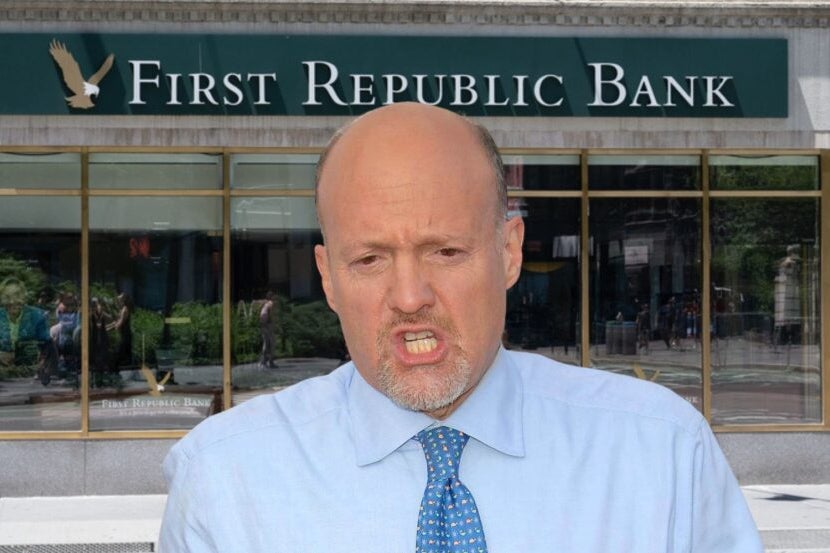 The First Republic Bank's low share price after depositors withdrew about $100 billion is said to be the most recent example of this widely held opinion. Its decline has also raised concerns that the recent banking contagion may not be resolved, despite what former IMF chief economist Raghuram Rajan had already predicted.
At the same time that Cramer referred to First Republic Bank as one of the top banks, Scott Hamilton, a contributing editor at Finextra Research and a worldwide payments and liquidity expert, identified the bank as one of the likely victims of the current banking contagion.
Hamilton added that First Republic Bank, Pacific Western Bancorp, and Western Alliance Bancorp might follow Silvergate Bank, Silicon Valley Bank (SVB), and Signature Bank as the next financial institutions to fail.
On the other hand, Cramer has drawn special criticism from the cryptocurrency community, where he has been an outspoken critic, for his forecasts regarding the First Republic Bank. Just last month, Cramer gave investors the go-ahead to sell Bitcoin as the mainstay of decentralized finance started to soar. While Cramer asserted that the collapse of First Republic Bank signals the end of the banking crisis.